The Researcher
Daniel Bacchieri is a PhD candidate at Monash University (Arts, School of Media, Film and Journalism), where he is writing a thesis about street musicians from Melbourne.
Born in Rio Grande, Brazil, Bacchieri is the founder and curator of StreetMusicMap, a global research on street music. StreetMusicMap Instagram is a two-time Webby Award Nominee (Social — Music category in 2017 and 2018), chosen by the International Academy of Digital Arts & Sciences as the top 5 in its category in the world. It is also the first project to curate street musicians on Spotify, creating global playlists featuring the best buskers in the world. Beyond Bourke Street (available on several streaming platforms) is the podcast version of the research on street music.
Bacchieri is a Tow-Knight Center for Entrepreneurial Journalism Alumni Fellow (CUNY – The City University of New York, USA) with a Bachelor's Degree in Journalism from the Pontifical Catholic University of Rio Grande do Sul, Porto Alegre, Brazil. Along with Dr Paul Watt (Adjunct Professor in the Elder Conservatorium of Music at the University of Adelaide), Daniel Bacchieri co-authors a bibliography of street music literature for Oxford Bibliographies Online.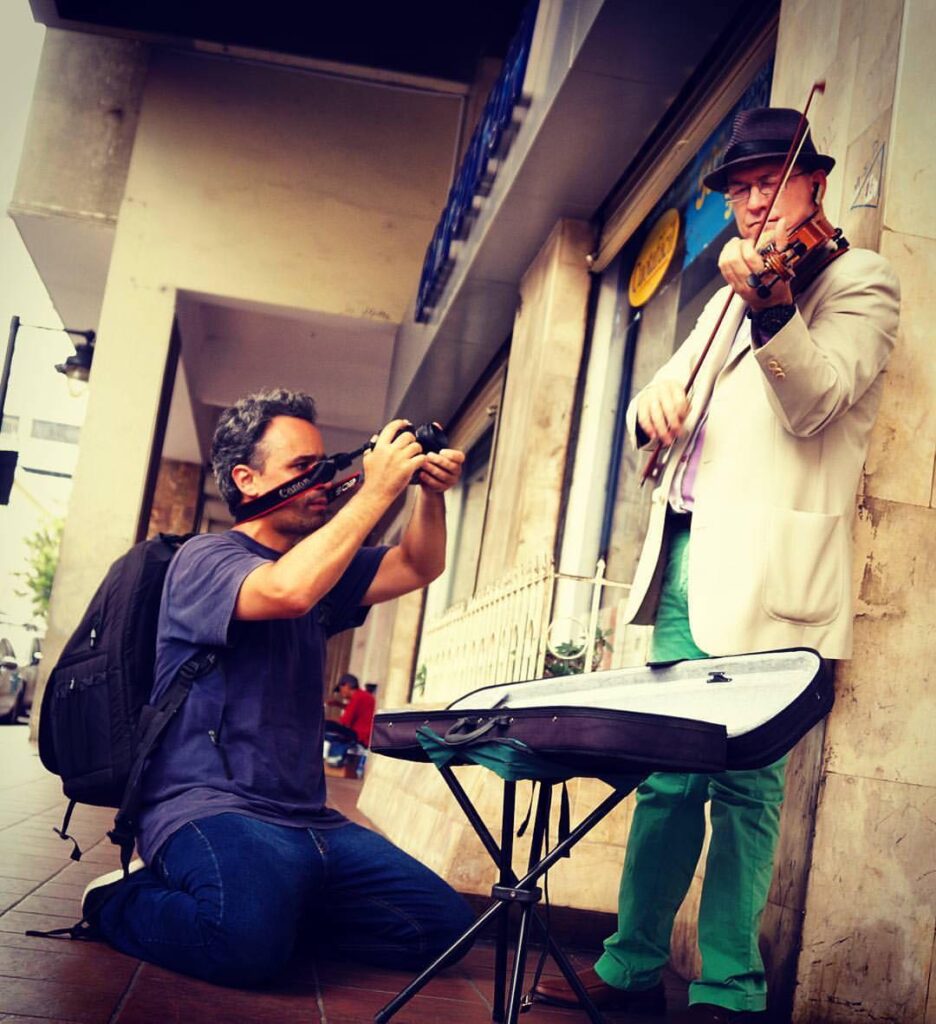 Conferences and Lectures:
Panelist – "Social Inclusion: Ethics of media production and community collaboration", as part of the Future of Inclusion Lab, a series of co-creation workshops coordinated by artist Rashin Fahandej at the American Arts Incubator (AAI), an initiative of the U.S. Department of State's Bureau of Educational and Cultural Affairs developed in partnership with ZERO1. July 14, 2020.
Panelist – Music Research Seminars 2019, Sir Zelman Cowen School of Music, Monash University, Melbourne, Australia. May 9, 2019.
Speaker – Nocturnal Cities Latin America by Sound Diplomacy: The First Latin American Conference on Managing the Urban Night, Bogotá, Colombia. November 22, 2018.
Lecturer – New Media and Civic Art Series hosted with MIT Comparative Media Studies/Writing, Cambridge, MA, USA. October 4, 2018.
Lecturer – Mapping the Musical City Symposium, in association with the Institute for Musical Research, School of Advanced Studies and Newcastle University, London, UK. February 2 & 3, 2018.
Participant – NYC Media Lab's annual Summit – Demo Expo, The New School, New York City, NY, USA. September 28, 2017.
Participant – Workshop about Video Journalism promoted by the Gabriel García Márquez New Journalism Foundation (FNPI) in Guayaquil, Ecuador. January, 2016.
Articles on street music:
Watt, Paul and Bacchieri, Daniel. 'Street Music.' In Oxford Bibliographies in Music. Ed. Kate van Orden. New York: Oxford University Press, 2021.
Bacchieri, Daniel (March 9, 2020). "All the world's a stage – buskers can make it big in a connected world". The Conversation.
Press Coverage of the research on street music:
Interview for the New Aural Cultures Podcast with Dr Dario Llinares (The University of Brighton, UK), January 21, 2021.
PhD research 'Beyond Bourke Street: Melbourne Buskers in the Digital World' featured on Australian Embassy in Brazil's Facebook page, December 16, 2020.
StreetMusicMap Radio featured on Music Journalism Insider, newsletter written by Todd L. Burns, October 5, 2020.
ABC Radio Sydney, Breakfast with Wendy Harmer and Robbie Buck, March 10, 2020.
SBS Portuguese with Luciana Fraguas, October 20, 2019.
StreetMusicMap Interview for BBC Outlook, March 15, 2017.
Atlas Obscura: "A Growing Archive of Global Street Music", February 24, 2017.
HuffPost: "You Might Be Able To Find Your Favorite Street Musician On This Platform", December 14, 2015.
CityLab: "A Geography of Street Music", April 10, 2015.
Honours:
StreetMusicMap selected to be part of the MIT Docubase, an interactive curated database of the people, projects, and technologies transforming documentary in the digital age. _docubase is a project of MIT Open Documentary Lab, MIT Comparative Media Studies/Writing, in collaboration with IDFA DocLab, i-Docs, National Film Board of Canada, The Guardian, supported by MacArthur Foundation, Art Works, and MIT Global Studies and Languages. August 2019.
Finalist (StreetMusicMap) – CityVis 2018 Competition, a collaboration between the Technologiestiftung Berlin and the University of Applied Sciences Potsdam (FHP). October 2018.
Finalist (StreetMusicMap Instagram) – Webby Awards 2018, Social Music category. May 2018.
Silver Winner (StreetMusicMap Instagram) – W³ Awards 2017, Content & Marketing-Social Video for Social category. October 2017.
Finalist (StreetMusicMap Instagram) – Webby Awards 2017, Social Music category. May 2017.